Alice MacKenzie, daughter of Captain Hugh MacKenzie of hms 'Thrasher', SHARES her father's memories of receiving the Freedom of Shoreditch in 1943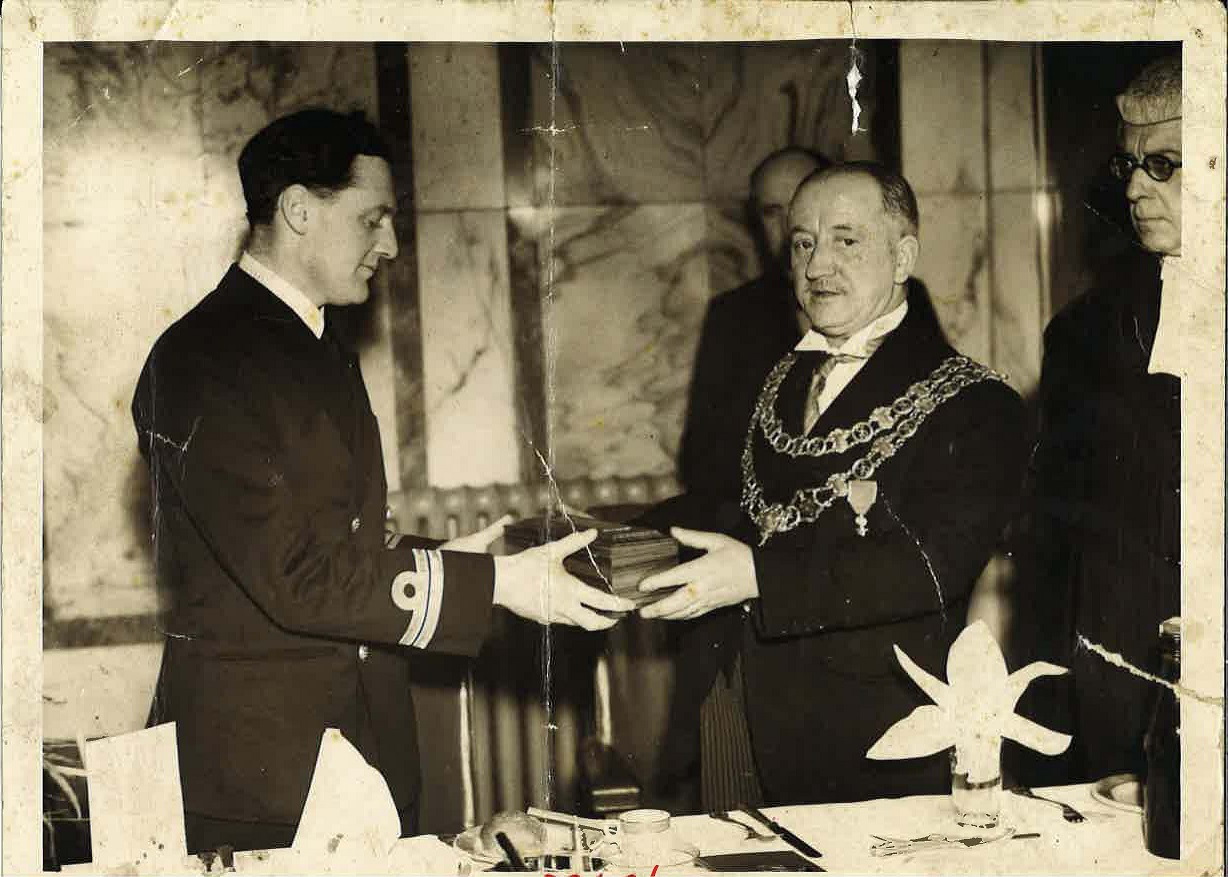 Captain Hugh Mackenzie, receiving the Freedom of Shoreditch from Mayor Thomas Sillitoe, at a reception for the officers and crew of the HMS 'Thrasher' in 1943
My dad, Hugh Mackenzie, during the war in 1943, was awarded the Freedom of Shoreditch. This was because the submarine that he was commander of, 'Thrasher', was adopted by Shoreditch during the war. My understanding was that a number of boroughs in London were asked to adopt ships to improve morale during the war.
My Dad didn't really talk about it when we were growing up, and it really wasn't until after he died, when my mother and I were going through his stuff and we came across this box. I think he had mentioned it but there was a scroll and everything, and other bits of memorabilia in a box.

My father kept everything. Whether that was because he was in the submarines and went abroad a lot, I don't know. But he kept everything and he kept the menu from the reception. It was a lunch, the whole crew were invited and he kept the menu card and all the crew signed it.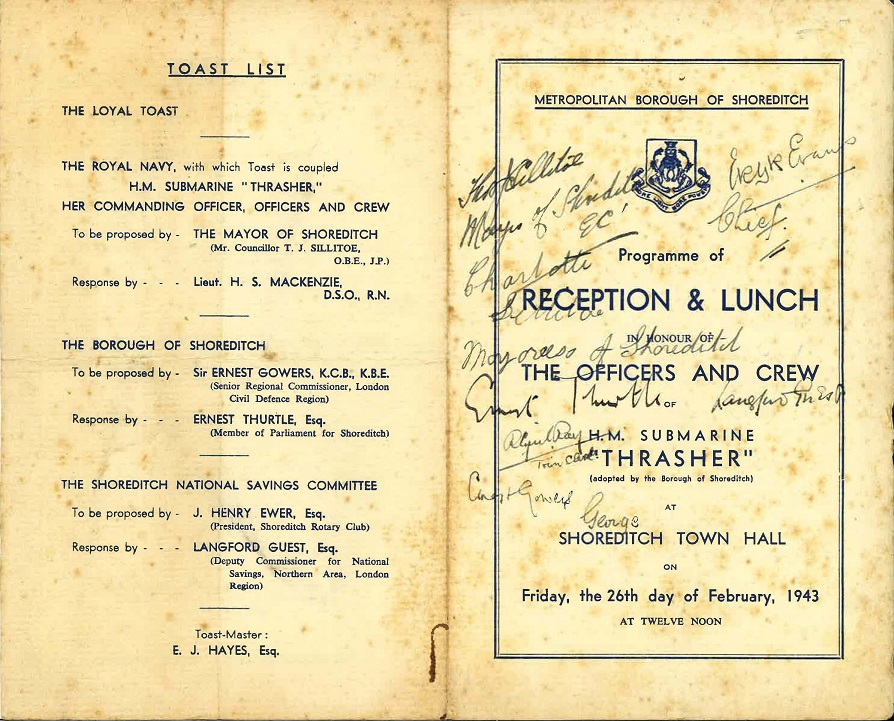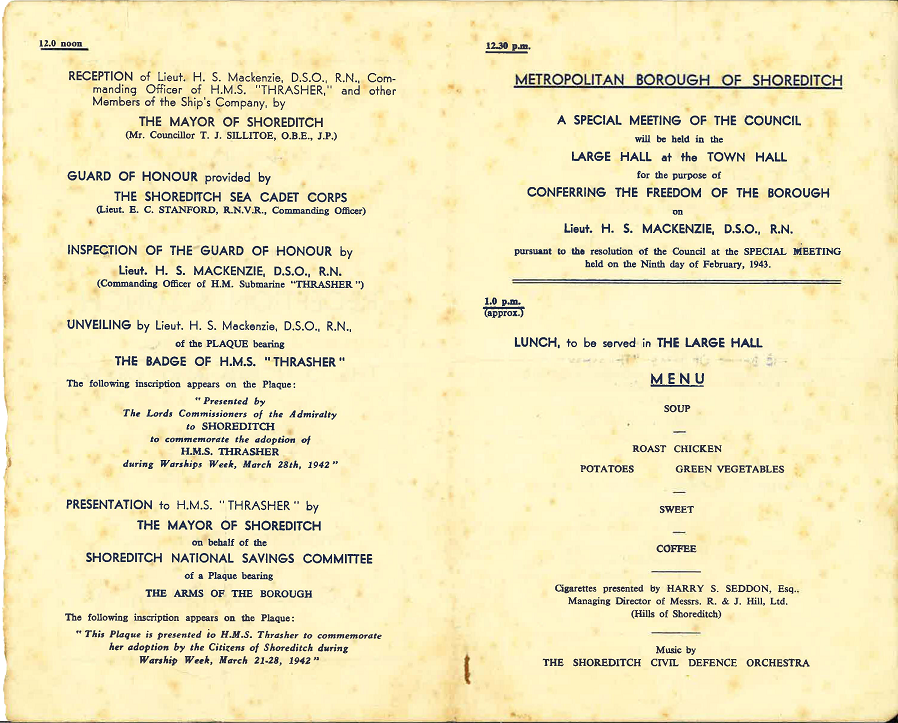 Menu from the reception lunch, signed by the officers and crew of the HMS 'Thrasher'
Soup, roast chicken, vegetables, potatoes, sweet and coffee. Then, what is amazing, cigarettes were provided by a company! And of course this was the war years so rationing and availability of food would have been scarce. So, this was quite a banquet for him and the crew.
And then he also got a book about Shoreditch and he kept the invitation and then there's a photograph of him receiving the Freedom from the mayor. After the meal he and the crew were taken to Cambridge Theatre, Shoreditch got them tickets. He also wrote a book in his later years where he writes about [the event] then.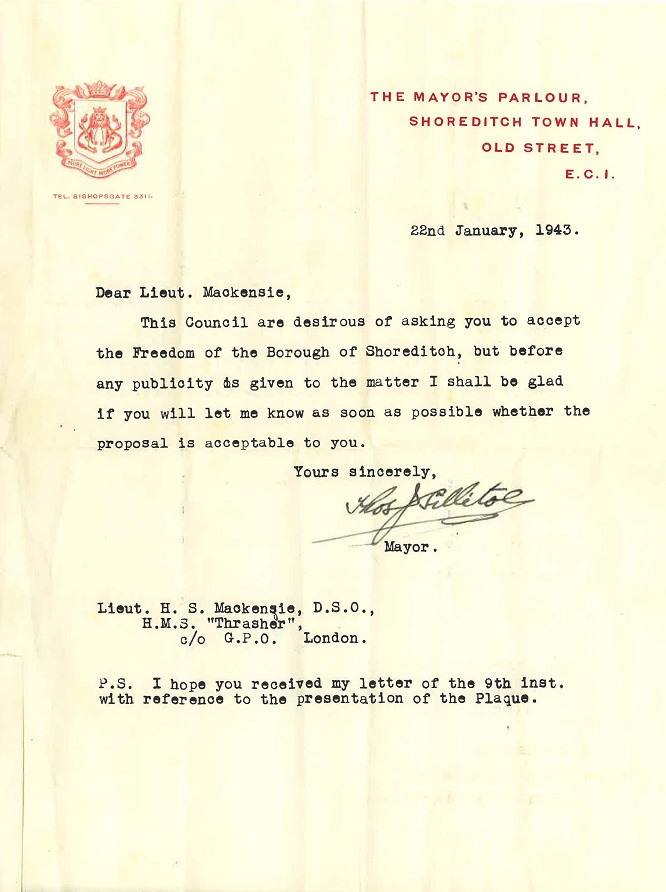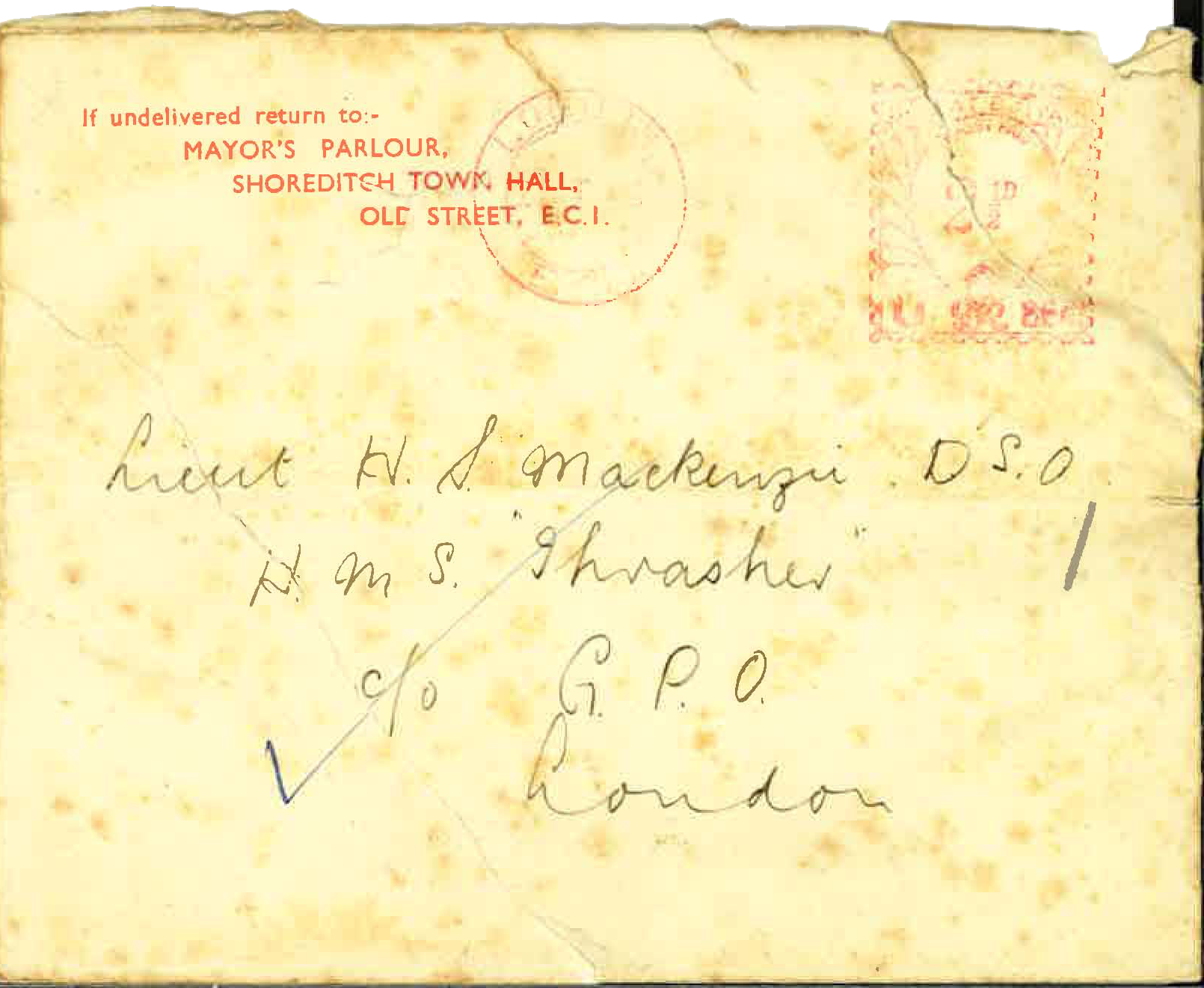 He came to London in the 1960s – early 60s – when he was working at the Ministry of Defence. Prior to that we lived around Portsmouth. We used to move quite regularly, such is the nature of service life. So, we only came to London in the 60s. He would come to London a lot, he'd go to the Cenotaph and Remembrance Sunday.
He was humble. He wouldn't proclaim a lot of what he'd done even though he was obviously very good at it. He retired in the 60s from the Navy and then was involved in the North Atlantic Salmon Fishing Trust, so he was a fisherman and he enjoyed all that side of life. I think that took on a lot of his life until he started writing a book of his memoirs.
These items were kindly donated to Shoreditch Town Hall by Capt. MacKenzie's family as part of the 150th Anniversary history project.
If you have a personal story or connection with the Town Hall please get in touch by emailing history@shoreditchtownhall.com, calling 020 7739 6176 or writing to us at Shoreditch Town Hall, 380 Old Street, London, EC1V 9LT.